Sunday, 22nd March 2020
10:37AM @ Ginett, G Hotel, Singapore. Breakfast.
Met Max Tan at his studio at Boon Keng yesterday. Confirmed Paulina as the model!
Went for a short meeting with Max at his design studio/atelier yesterday. He recently went back to school to find himself again artistically, and wanted to work with me for his graduation collection of 5 looks. We met a few years ago but didn't get to work together – until now, and I'm very excited for it!
For his graduating collection, he is inspired by the old traditional outfits of the Asian communities (in particular Javanese / Borneo), and the results were raw and slashed; with lots of draping and 'imperfect' cuts – I love them! Very me in many ways. I don't know how to describe it but I feel the clothes deeply, and they are totally perfect for my style. I've always wanted to photograph clothes like these.
Right now, I'm feeling very inspired; and I haven't felt this way about photographing clothes since the shoot for Zyanya Keizer for her presentation of her 'Conatus 1' collection in Amsterdam. Max liked Paulina (my friend and proposed model for the shoot) and I called her afterwards to confirm her interest—to which she said yes! Perfect. We also caught up a little over the phone of life and some 'drama'. We're doing the fitting this coming Thursday, looking forward to it.
Sunday, 5th April 2020
6:20PM @ IKEA, Queenstown with family. Dinner.
Shoot for Max Tan's collection yesterday! Shot it at the Istana Woodneuk abandoned house.
On Friday, went with my family to recce and explore the Istana Woodneuk, and abandoned house at Holland Road (Dempsey Hill) for the shoot with Max, which happened yesterday. The last time I was there was slightly over 3 years ago when Ivan and I went to explore for the first time. The way in this time was pretty clear and easy, and furthermore there wasn't any police keep-out sign outside anymore! Anyhow, we (Pola, Max, his 2 assistants and I) went in and made the house into our base of operations. The first level was weirdly too dim and dingy, so we set up on the second floor and shot all the images on that level as well.
The dynamic with Pola was amazing. It's been some time since we last did a shoot together, but we found our flow rather quickly into the shoot. I loved the elegance of her and how well the clothes fell on her – her frame and posture fitted perfectly. We made use of the doorways in the house and the natural light (the roof was burned down and no longer there so plenty of light could come in) which was great, due to the overcast weather. Thankfully, it didn't rain! Max stayed out of our way as much as possible so that Pola and I could have lots of 'space' to work and figure things out organically. The exchange with Pola, with her ideas and suggestions, was super natural and it felt so smooth and creative. We shot each piece fluidly and found a unique way to approach each of the 5 garments. Very happy with the results at the end. It felt extremely fulfilling, and that is one of the best feelings!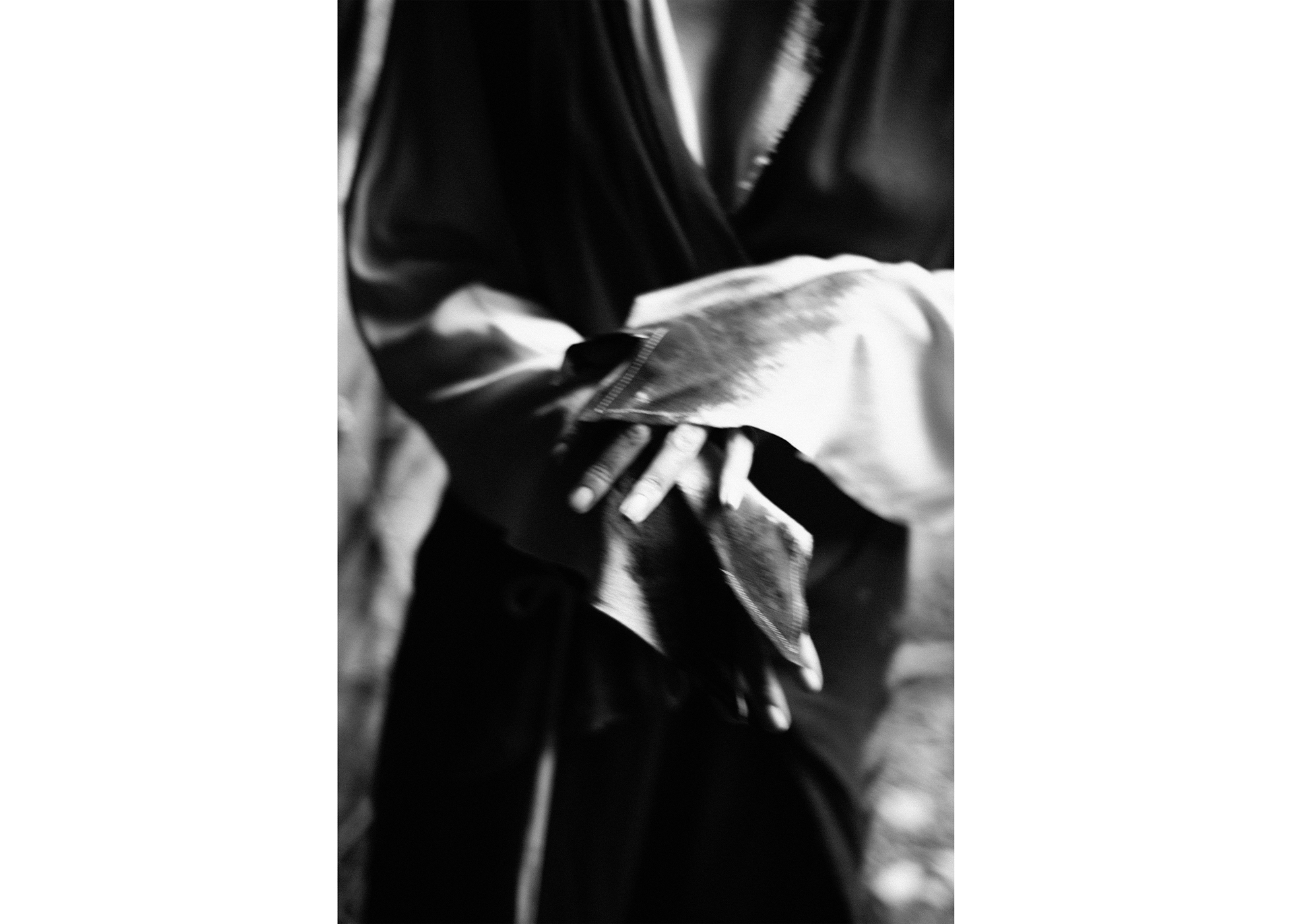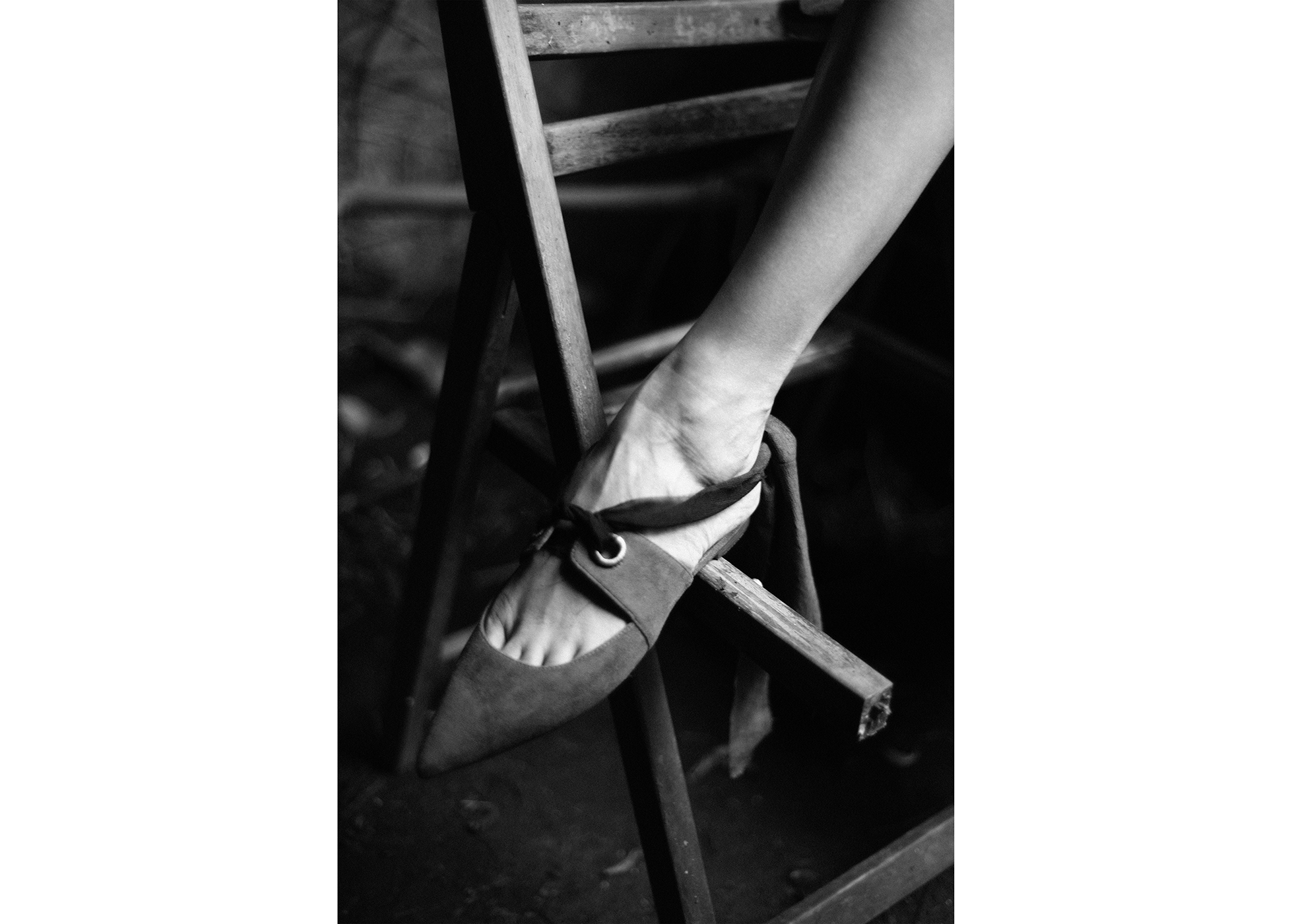 My personal favourite image was of the shoe with the broken chair – something that I had visualised in my mind during the recce when I saw the chair on the first level. Afterwards, Pola and I went to P.S. Cafe at Dempsey nearby for a well-deserved pasta dinner!