Friday, 25th October 2019
4:04PM, Jorden Rundt cafe, Copenhagen, with LiLin and Hsien.
Reached Copenhagen at 8:40AM yesterday. First time here! (Planned this short trip to visit my cousin LiLin earlier this month) Took the Metro from the airport to Nørreport Station where LiLin and I met outside the McDonald's. She is studying in Lund, Sweden and Hsien, her boyfriend, studies in Copenhagen. Lund and Copenhagen are really close by and therefore we made the plan to stay here till Sunday, then Monday to Thursday in Lund.
LiLin and I started the super early day yesterday exploring the city. Really happy to be able to visit Copenhagen! The colours (pastel, but a bit faded) work really well with the distinct architecture, making it really iconic. We went to Cafe G at her suggestion, where we had the most awesome brunch/lunch buffet from 10AM to 1PM. 150KR. Super worth it! The ambience was also great.
Left the restaurant and explored the city by foot. Walked around random corners and entered spontaneously into the courtyard of houses. One of them belonged to an artist (painting/sculpture), called Jean-Anthony, an old man, who was exhibiting his works there. He was carving a pumpkin for Halloween just outside in the garden when we met and talked to him. He took us into the house and showed us around for a bit, and we had a nice chat learning about the city.
Our next stop was Nyhavn, the iconic harbour of the city where it is commonly shown on postcards. Throughout the day, it was foggy and slightly 'drizzly', and plenty of small water droplets stuck to our glasses. Not surprisingly, the mood was absolutely perfect for some 'old looking' photos.

When we were at Nyhavn, the most beautiful thing happened. I saw a lady smoking by the stairs of the underground public toilet and thought that scene looked photogenic. As I approached nearer for a picture of her, a guy came up from the stairs and met her for a few seconds, before embracing and locking in a kiss – all of this happened right in front of my lens! I'm so happy that I caught that moment as I feel that was THE image that best represents the place, as well as this trip.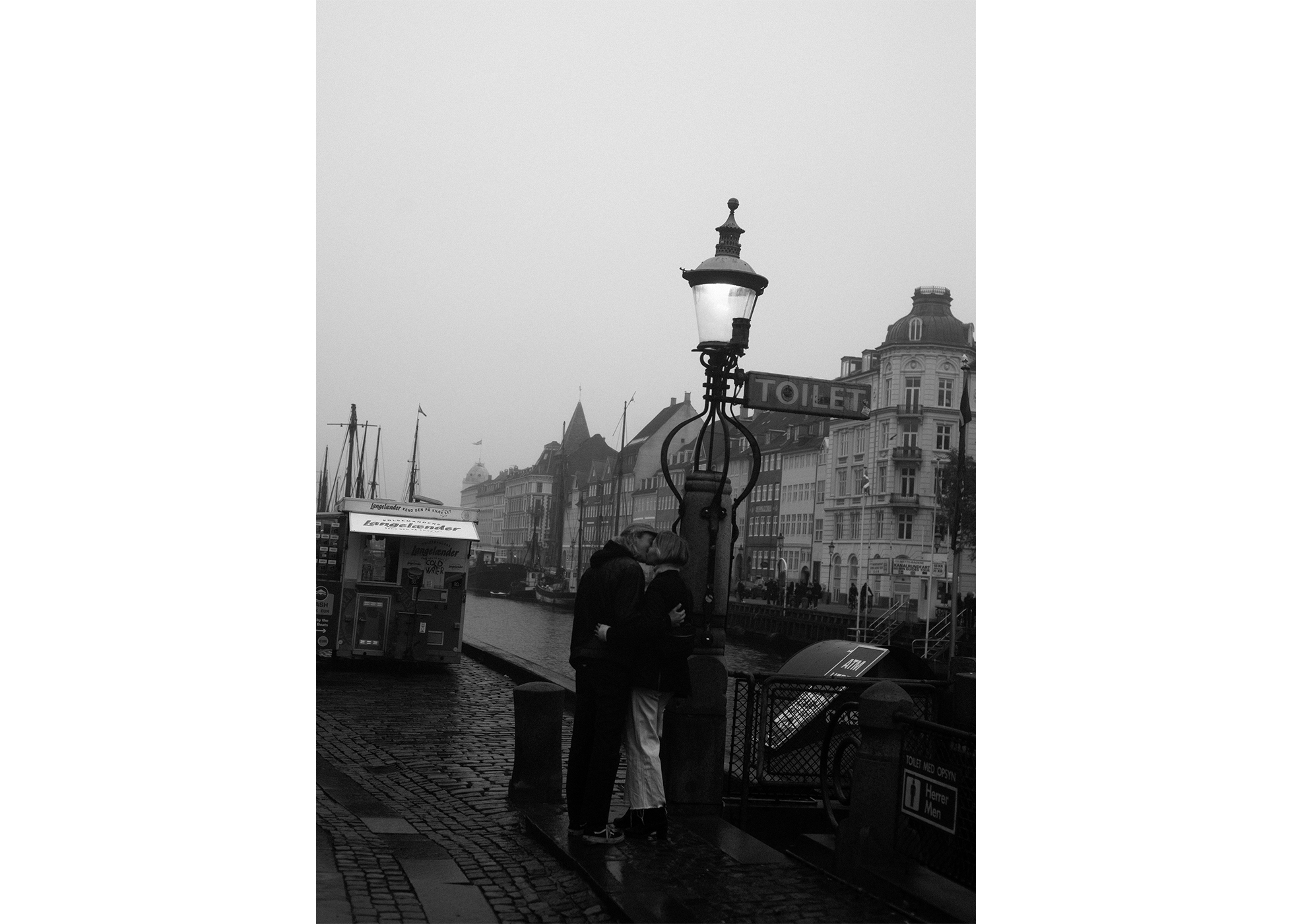 4:30PM, coffee with oatmilk
We're still chilling here in this cosy cafe. Hsien lives in a student accommodation in the area of Lyngby, in the northern side. We decided today to explore Klampenborg, a nearby area/neighbourhood by the coast. Our first stop was an old antique bookstore beside the bus stop of the station, and it was there that the owner, Nils, and his girlfriend Nadine spoke to us. We had a nice banter and chat, and they also showed us how they operated the National Cash Register (basically a cashier machine) that they still use from the 1930s. Nils and Nadine recommended us to this wonderful cafe.